Mental health considerations are playing an increasingly pivotal role in workplace satisfaction in the wake of the pandemic. This spotlight on mental health is a natural opportunity for credit unions to lean into their community-driven, member-focused value proposition to champion the significance of mental health support for employees.
According to the American Psychological Association, most workers (81%) will consider an employer's level of mental health support as an important factor when looking for their next job. It's no surprise, considering a similar percentage of employees (84%) report their workplace conditions are directly contributing to at least one mental health challenge, as noted in the U.S. Surgeon General's Workplace Well-Being Priorities. 
So, how can credit unions ensure they are part of the solution, rather than contributing to the problem?
During a recent CU Benefits Alliance roundtable discussion on mental health, Cigna Healthcare's Peter Freeburg, behavioral clinical strategist, spoke with credit union HR leaders about the need for mental health recognition in the workplace. In a follow-up conversation, Freeburg, a licensed mental health clinician, and other roundtable participants addressed the most effective ways to recognize employee mental health challenges and how to provide assistance. They shared real-life initiatives moving the needle on mental health support at credit unions.
Why Credit Unions Can't Ignore Mental Health
Work doesn't happen in a vacuum. The number of workers who say their mental health is affecting their workplace performance is on the rise, up 12% in the last two years to 60% of employees, according to Lyra Health's State of Workforce Mental Health report. 
Free Download
Credit Union Executive Guide: How to Improve Retention with Employee Benefits
Practices like silent quitting, where an employee disengages from their work without actually leaving their job, became more commonplace during the pandemic and have not gone away, says Freeburg. "If you are not engaging in work relationships with your colleagues, that can cause a ripple effect," he says. "If people are doing the bare minimum, they're less engaged with one another, that is contagious."
Meanwhile, the number of workers discussing mental health challenges at work has doubled in the last two years, from 23% to 46%, according to Lyra. Still, managers often don't know the right way to handle the topic. Nearly half (48%) don't feel they have the resources and training to support team members' mental health, Lyra found.
It's a critical shortfall, considering the essential role managers play in employee mental health.
Workplace Mental Health Starts with Managers
The majority of employees (69%) report their manager has a direct impact on their mental health, according to The Workforce Institute. It's significantly higher than doctors (51%) or even therapists (41%)!
Although those statistics may sound surprising initially, it makes sense, says Freeburg. While people may see a therapist once a week or once a month for a set time, they tend to interact with their manager multiple times a day. "For the most part, managers have more consistent direct interactions with employees. We've been trying to encourage managers to feel educated and empowered on employee mental health," he says. "Not to do therapy, but at least to know what to look out for from a mental health perspective." 
In a community-driven organization like a credit union, the leaders are there because they care deeply about people. "Leaders who understand this and create a culture focused on employee well-being not only have high levels of employee satisfaction and engagement, but better business outcomes, too," says Chary Krout, co-founder and partner at CUSO Cultivate. 
It's not that managers don't want to help their employees with mental health challenges. Often, they are afraid to get too personal or are fearful that they will violate protected health information (PHI). The key is to train and empower managers to know how they can best assist their employees' mental health needs. "It starts with finding resources for managers, like EAP training, then providing the time to participate — making it a top priority on their long to-do list," says Krout. 
"The more frequently leaders connect managers and employees together, the greater the chance for a timely conversation that may help the mental well-being of their employee," she adds. "Ensuring your leaders are having frequent, consistent one-on-one conversations not only supports greater personal and organizational performance, it could also lead to an opportunity to support the mental health needs of an employee."
iQ Credit Union recently participated in mental health support response training. The credit union offered the series virtually to managers and employees at its 16 branches in Southwest Washington and Oregon. 
"We encouraged both managers and employees to attend, with the topic being specific to their roles," says Shelan Stritzke, VP of Human Resources at iQ Credit Union. "One focus of the course was for attendees to gain additional confidence in talking about mental health. The goal is to reduce the stigma that can be associated with having mental health concerns." 
iQ wants to make mental health conversations commonplace and comfortable. "If an employee comes to their manager with a mental health concern, we want both parties to feel confident in navigating the conversation and that the employee is provided the support they need," she says.
How Credit Union Managers Can Support Workplace Mental Health
If an employee breaks their leg, their manager will likely ask them about the injury and feel reasonably secure talking about it. However, if that same employee is visibly upset or even crying at work, managers often hesitate to address the moment. The chief concern, says Freeburg, is thinking they are somehow violating the worker's privacy. 
"If the person doesn't want to share with you what's going on, they don't have to share with you, and then you can drop it," says Freeburg. "These are OK conversations to have. You're not breaking any laws. Now, if an employee says, 'I have bipolar disorder,' and their manager tells everybody, that's breaking PHI. But just talking to the employee directly about it isn't."
Some managers are more naturally inclined to want to engage in mental health topics than others. Freeburg recommends establishing a cohort of leaders who embrace these softer skills as a starting point. "If you start by saying, 'Hey, let's get all the managers together to talk about mental health,' some of those managers who don't value it as much, it's just gonna go in one ear and out the other," says Freeburg. "By prioritizing those who value it, they can become liaisons throughout the company."

However, it takes more than just posting some materials on the company intranet, says Krout. "It's about ensuring that well-being — physical, mental, financial — is embedded into the employee experience," she says. "Great credit unions ensure that employees programs, communications, and manager resources are all connected and are frequently shared through all their channels: town hall meetings, trainings, and monthly team meetings."
iQ Credit Union launched an employee-led wellness committee nearly seven years ago. Committee members meet monthly to plan wellness events and initiatives. This group typically offers two to three opportunities each month to support employee well-being. "Having such strong employee representation on the wellness committee really gives us insight into what's going on in different areas of the credit union and what our employees are interested in participating in," says Stritzke. 
Be Proactive About Employee Mental Wellness
A key goal of iQ's wellness committee is fostering well-being through social connection. "When people think about wellness, it's physical fitness that comes to mind first. The emphasis of our wellness program — especially as we moved through, and emerged from, the pandemic — has been on creating opportunities for employees to get to know one another and strengthen their relationships," says Stritzke.
From Bunco night to a sound healing class to roller skating and bowling events, iQ is able to bring employees and leadership together regularly. "It's a lot of fun, and we have a good time. But the real reason we're offering these events is because we want to create opportunities for staff to have positive shared experiences that extend outside of the day-to-day operations of the credit union," says Stritzke.
Just as regular exercise is needed for physical strength, incorporating mental well-being activities into the workplace helps employees build resilience, says Cigna's Freeburg. And, when the opportunity arises for a manager to speak with an employee about their mental health, it's important to follow up, he adds. 
"A quick follow-up, or even scheduling a follow-up, can be very, very helpful," Freeburg says. "You don't have to talk about the past conversation, but at least have a follow-up to indicate, 'I'm not weirded out by that conversation. I'm still comfortable around you. I am a support person for you, and you can come back to me.'" 
Engaged Employees Are Healthier and More Productive
From a business perspective, prioritizing mental health is also in a credit union's best interest. Healthier employees need less time away from the office and are more engaged with their work. According to Gallop, engaged employees are more likely to see their job as having an extremely positive impact on their mental health (15%), while actively disengaged employees say their job has an extremely negative impact (19%).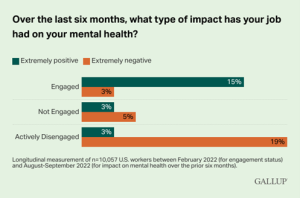 Although the Gallop report found only 32% of U.S. employees are currently engaged at work, there are ways credit unions can better foster employee engagement. Gallop research identified these 10 ways to show you care about employee well-being:
Promote use of the company's employee assistance program (EAP).

Include employees' family members in well-being and engagement activities.

Provide easy access to fruits and vegetables in the workplace.

Offer to help employees manage their finances.

Encourage employees to share their own well-being ideas.

Recognize employee well-being achievements.

Incentivize employees to exercise and find safe spaces to do so.

Provide free nutritional cooking classes for employees.

Include well-being in annual company goal setting.

Create a company sharing network to socialize well-being best practices.
The Credit Union Mentality 
Relationship building is critical to creating a sense of belonging at work, Stritzke believes. It's also a vital culture driver for credit unions, in particular, where value propositions center around a community-focused mindset. 
According to the Lyra Health report, 1 in 3 employees say their employee benefits plan does not effectively address their mental health needs. iQ Credit Union recognizes that its benefit plan design must support the credit union's holistic approach to mental health and overall health care. "With our health care benefits, we also offer alternative care," says Stritzke. "Things like acupuncture, massage, chiropractic care, knowing that those options support overall well-being." 
Offering strong mental health benefits also helps with retention and recruitment, Stritzke adds. With conversations around mental health and well-being becoming more frequent, employees and job seekers are looking to employers to provide increasingly better support. "It continues to be an area of focus and evolution for us," Stritzke says.
Regular employee feedback throughout the year helps iQ to know if the credit union is hitting the mark. "Employee feedback is critical in the benefit design process," says Stritzke. "So, when we think about mental health and mental health support, we want to make sure that we're listening to our employees and understanding their needs so that we can design programs to support those needs."
If your credit union wants to strengthen its mental health offerings, contact The Credit Union Benefits Alliance anytime. With decades of credit union-specific employee benefit plan experience, The Credit Union Benefits Alliance allows credit unions to capitalize on their favorable risk pool to generate extensive employee benefit savings. Alliance credit unions band together to leverage their lower risk to reduce premiums, deductibles, and co-pays while raising the quality of benefits for their employees, including mental health and wellness benefits.